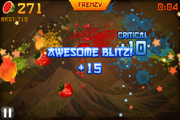 A Blitz is a combo bonus, found in Arcade Mode and Fruit Ninja Frenzy. Getting a certain amount of fruits sliced in combos gets you a certain blitz rank, and these will be lost if you slice a purple bomb or if no combos are created for a time. Each score bonus is equal to its level multiplied by five. Blitzes are at their easiest to get when slicing a frenzy and a frozen banana, because you can look for big lines of fruit and shred them to "blitz" faster.
Blitz Levels
There are six accessible levels:
Blitz
Level
Point
Description
Combo Blitz
5
Slice 9 fruits in combos quickly at start
Great Blitz
10
Slice 8 fruits in combos quickly after Combo Blitz (17 fruits overall)
Awesome Blitz
15
Slice 8 fruits in combos quickly after Great Blitz (25 fruits overall)
Super Blitz
20
Slice 8 fruits in combos quickly after Awesome Blitz (33 fruits overall)
Hyper Blitz
25
Slice 8 fruits in combos quickly after Super Blitz (41 overall)
Unbelievable Blitz
30
Slice 8 fruits in combos quickly after Hyper Blitz (49 overall)
Once you get Unbelievable Blitz, keep slicing more fruits in combos quickly to earn additional 30 points.
Smoothies
Fruit Ninja Frenzy has two Smoothies to boost your blitzes. The Blitz Boost adds five more points to each blitz, and the Insta-Blitz makes your blitz level go up whenever you slice a Bonus Banana.
Gallery
Ad blocker interference detected!
Wikia is a free-to-use site that makes money from advertising. We have a modified experience for viewers using ad blockers

Wikia is not accessible if you've made further modifications. Remove the custom ad blocker rule(s) and the page will load as expected.