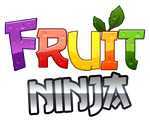 Fruit Ninja is an action game from Halfbrick Studios, designed for iOS Devices, costing only $0.99 on the iOS App Store and $1.60 on the Android Market. It was first available for purchase on April 20, 2010. In this game, the objective is to slash through as much Fruit as possible while avoiding Bombs. It consists of three modes: Classic Mode, Arcade Mode, and Zen Mode.
---
Subcategories
This category has the following 6 subcategories, out of 6 total.
A
B
F
S
Pages in category "Fruit Ninja"
The following 21 pages are in this category, out of 21 total.
Media in category "Fruit Ninja"
This category contains only the following file.
Ad blocker interference detected!
Wikia is a free-to-use site that makes money from advertising. We have a modified experience for viewers using ad blockers

Wikia is not accessible if you've made further modifications. Remove the custom ad blocker rule(s) and the page will load as expected.