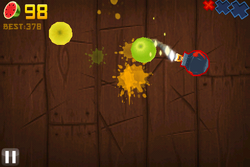 Classic Mode is one of the three modes in Fruit Ninja. In Classic Mode, the player must slice all Fruit that appears on the screen, while avoiding the Red Bombs. This mode has three lives. Dragon Fruit and Pomegranates appear in this, but Bonus Bananas do not.

Lives
The player starts with three lives. If all three lives are lost, the game is over. Several ways to decrease or increase the amount of life you have left are:
Miss a fruit - Lose a single life
Hit a bomb - Instantly lose all lives (unless Bomb Deflects are used)
In the event that a player does not have max lives, for every 100 points, a life is received (up to three lives max)
The following blades and backgrounds can only be obtained in Classic Mode:
Ad blocker interference detected!
Wikia is a free-to-use site that makes money from advertising. We have a modified experience for viewers using ad blockers

Wikia is not accessible if you've made further modifications. Remove the custom ad blocker rule(s) and the page will load as expected.