Multiplayer is a player competes with your friends in the game. It is only in your iPad devices. (Not in iPhone version) Classic Attack
Attack with other friends to get survived as you can. You can deploy bombs every ? points.
3 types of speeds: Slow, Medium, Fast
Zen Duel
Compete with your friends to get as high as you can. Make combos before your friends.
5 types of time adjustments: 0:30, 1:00, 1:30, 2:00, 3:00.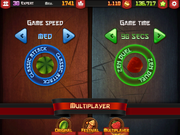 Ad blocker interference detected!
Wikia is a free-to-use site that makes money from advertising. We have a modified experience for viewers using ad blockers

Wikia is not accessible if you've made further modifications. Remove the custom ad blocker rule(s) and the page will load as expected.