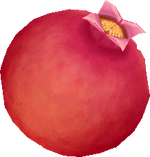 The Pomegranate is a Fruit that appears when landing on a score in Classic Mode and at the end of Arcade Mode. When hit, the player can hit it as many times as they can in the time given, before the Pomegranate will explode in a fruity mess, destroying everything on the screen and giving points for the number of slashes you did (e.g. 35 slashes; 35 points) and how much fruit you destroyed with it.
Pomegranates only appear in Fruit Ninja and Fruit Ninja Kinect.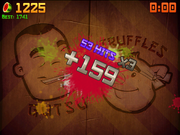 ---
Trivia
A Pomegranate can be better than a Dragon Fruit if you slice more than 50 times in one Pomegranate.
Ad blocker interference detected!
Wikia is a free-to-use site that makes money from advertising. We have a modified experience for viewers using ad blockers

Wikia is not accessible if you've made further modifications. Remove the custom ad blocker rule(s) and the page will load as expected.