Sensei is an elder character in Fruit Ninja and trusted advisor to the player. He gives fruit facts and gaming tips.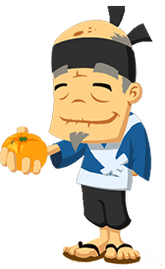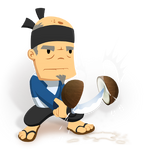 | Sensei's Fruit Facts | Mode: |
| --- | --- |
| Unripe pineapples are poisonous | Unknown |
| The passion fruit is the national flower of Paraguay | Unknown |
| Japanese plums actually originated in China | Unknown |
| In Kerala in South India, coconut flowers must be present during a marriage ceremony | Unknown |
| Early explorers used watermelons as canteens to carry their water supplies | Unknown |
| Strawberries are the only fruit with their seeds on the outside of the fruit | Unknown |
| Mangoes can be ripened quickly by placing them in a paper bag with a ripe banana | Unknown |
| Kiwi fruit was originally known by its Chinese name, yang tao (sunny peach) | Unknown |
| Watermelons are 92% water! | Unknown |
| One third of the worlds pineapples are produced in Hawaii | Unknown |
| The average strawberry has around 200 seeds | Unknown |
| The second most popular mango variety grown in Ajavascript:void('Visual')ustralia is the R2E2! | Unknown |
| The kiwi fruit is declared as the national fruit of China | Unknown |
| Almonds are members of the peach family | Unknown |
| Pineapples were once very rare, thus the name 'King of Fruits | Unknown |
| The watermelon is cousins with cucumbers, pumpkins and squash | Unknown |
| A plum is a drupe, a pitted fruit related to the nectarine, peach, and apricot | Unknown |
| Oranges are technically a hesperidium, a kind of berry | Unknown |
| Oranges are the most commonly grown tree in the world | Unknown |
| Eating bananas between meals can help expectant mothers avoid morning sickness | Unknown |
| Peaches were once known as Persian apples | Unknown |
| Research shows that eating apples may reduce the risk of many kinds of cancer | Unknown |
| The Romans used strawberries for a long list of medical remedies | Unknown |
| If you plant a single orange seed you will probably get more than one plant | Unknown |
| In China the peach is a symbol of longevity and good luck | Unknown |
| Bananas are not trees, they are giant herbs | Unknown |
| Mangoes have as much vitamin C as oranges | Unknown |
| The largest watermelon ever grown was 262 pounds, or 119 kg! | Unknown |
| Lemon and salt can be used to treat rust spots, and to clean copper pots | Unknown |
| Apple seeds are mildly poisonous, but not enough to be dangerous to humans | Unknown |
| The prickly pear ia actually a type of cactus and considered a noixious weed in Australia | Unknown |
| Apples have almost 5 times the antioxidant capacity of bananas | Unknown |
| The purple fruited species of passion fruit self-fertilizes | Unknown |
| People allergic to latex aer likey to also be allergic to kiwi fruit | Unknown |
| More fresh mangoes are eaten everyday than any other fruit in the world | Unknown |
| Strawberries are a member of the rose family | Arcade Mode |
| Nothing rhymes with orange | Arcade Mode |
| Over 1,200 varieties of watermelons are grown worldwide in 96 countries | Arcade Mode |
| Mangoes belong to the same family of plant as poison ivy | Arcade Mode |
| There are more than 20 billion coconuts harvested each year! | Arcade Mode |
| Lemons contain more sugar than strawberries | Arcade Mode |
| Nectarines are just peaches without the fuzz | Arcade Mode |
| The peach is a member of the rose family | Arcade Mode |
| Strawberries were used as sacred symbols by Christian stonemasons | Arcade Mode |
Images of Sensei
Sensei's Swag
See Sensei's Swag.
Ad blocker interference detected!
Wikia is a free-to-use site that makes money from advertising. We have a modified experience for viewers using ad blockers

Wikia is not accessible if you've made further modifications. Remove the custom ad blocker rule(s) and the page will load as expected.