Starter packs are packages that are purchasable in Fruit Ninja Frenzy. There are, as of September 1, 2012, two starter kits. They are purchased with Facebook Credits in Fruit Ninja Frenzy. All packs include juice and spins. The packs are located in the deals section.
Starter Pack I
Starter Pack I costs 3 Facebook Credit and gives you 1000 juice and 3 spins.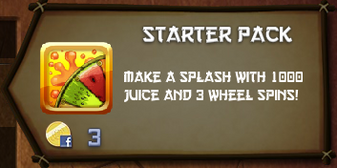 Starter Pack II
Starter pack II costs 7 Facebook Credit and gives you 2500 juice and 5 spins. It is now unavaliable as it has been removed.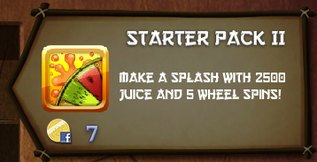 Ad blocker interference detected!
Wikia is a free-to-use site that makes money from advertising. We have a modified experience for viewers using ad blockers

Wikia is not accessible if you've made further modifications. Remove the custom ad blocker rule(s) and the page will load as expected.